Hardcover
Published January 2017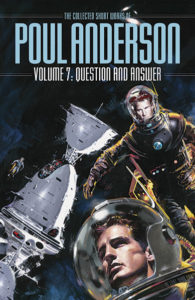 Hardcover price:
$32.00
First edition, First printing
ISBN-13: 978-1-61037-313-5
Page count: 550
Book Size: 6" x 9"

Question and Answer
Volume 7 of the Collected Short Works of Poul Anderson
by Poul Anderson
Question and Answer: The Collected Short Works of Poul Anderson
(volume 7) continues the series of the best of his fantasy and science fiction stories published over his writing career of 50 years. It contains 6 short novels, 2 novellas, and 4 short stories. "Question and Answer", the lead short novel tells the story of what may or may not be the first meeting between two different species, with a touch of politics and a mystery. The book's two-page frontispiece is an illustration of this story. "The Big Rain" is set on Venus while it is still being terraformed, and concludes the "Un-Man stories". Dominic Flandry is well represented in this volume, including the first time he meets Aycharaych of Chereion, his life-long nemesis. "The Troublemakers" examines life aboard a slower-than-light transport ship as it makes a voyage that will last over three generations. Finally, but not least, David Falkyn and his trader team open a planet for trade.
Table of Contents
Poul Anderson by Vincent Di Fate
Question and Answer
The Big Rain
Outpost of Empire
Message in Secret
Honorable Enemies
Hunters of the Sky Cave
In the Shadow
Tiger by the Tail
Trader Team
Warriors from Nowhere
To Outlive Eternity
The Troublemaker
Edited by Rick Katze and Michael Kerpan
Cover and interior art by Vincent Di Fate
Cover design by Alice N. S. Lewis