Hardcover
Published February 2020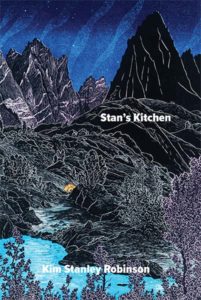 Hardcover price:
$30.00
First edition, First printing
ISBN-13: 978-1-61037-340-1
Page count: 316
Book Size: 5-1/2" x 8-1/2"

Stan's Kitchen
A Robinson Reader
by Kim Stanley Robinson
This is a Boskone book by the Boskone 57 Guest of Honor. We have numbered each book and Stan has graciously signed them all. The book will be available for sale via our ecommerce website after Boskone is over on February 16, 2020.
Kim Stanley Robinson is one of the most well-known SF writers in the world, applauded in non-SF circles for his grasp of vital ecological and political issues. His Mars trilogy, his Science in the Capital trilogy, and his recent novels
2312
,
Aurora
,
New York 2140
, and
Red Moon
are all modern SF classics, each exploring directions in which our world may be heading. In this book, Stan offers you a rare treat, a selection of his favorite pieces of his own writing, which offers a unique view into important ideas within many of his areas of interest. Stan has chosen examples of his entertaining fiction, including a band disaster, an exploration of the idea of whether Vinland existed or not, how a curveball might work on Mars, and his final Mars story. Also included are insightful and wide-ranging essays on Gene Wolfe, Cecelia Holland, Joanna Russ, Stanislaw Lem, George Orwell, Philip K. Dick, Ursula Le Guin, and Chip Delany that should make you want to run out to find and read
more
of their works. You'll read of some of his optimistic and naturalistic visions of our world in essays on predicting the future, on utopias and dystopias, on his Antarctic adventures, on hiking experiences in the wild, and on the fight to name a mountain. This personal collection of prose and poetry is the next best thing to sitting in Stan's kitchen, sharing a cup of coffee and conversation with the master. Dust jacket illustration "Isosceles Peak from Dusy Basin" ©2012 by Tom Killion Dust jacket design by Matt Smaldone
Table of Contents
What's in My Pocket
Stan's Kitchen An Introduction by Michael Blumlein
The Part of Us That Loves
"A Story," by Kim S. Robinson
Notes for an Essay on Cecelia Holland
An Introduction to The Female Man by Joanna Russ
Lem in California
Animal Farm in 1992
An Introduction to Ubik by Philip K. Dick
Happy Birthday Ursula
Delany Considered
Vinland the Dream
Six Poems from If Wang Wei Lived on Mars:
Crossing Mather Pass
Invisible Owls
Tenzing
The Red's Lament
A Report on the First Recorded Case of Areophagy
Two Years
Discovering Life
How to Predict the Future
What Can't Happen Won't
Arthur Sternbach Brings the Curveball to Mars
Dystopia/Utopia
Enough Is As Good As a Feast
Source of the Peach Blossom Stream
Six Day Poems by the Widow Kang
Prometheus Unbound, at Last (And None Too Soon)
The Worst Journey in the World Revisited
Introduction to In the Sierra: Mountain Writing by Kenneth Rexroth. 223
Somewhat Lost
Naming Mount Thoreau
Kistenpass
Zürich
Oral Argument
Seven Shaman Songs
The Timpanist of the Berlin Philharmonic, April 1942
Pippilouette's Story
Acknowledgments
Sources
Edited by David G. Grubbs
Cover art by Tom Killion
Cover design by Matt Smaldone